With the holidays just around the corner, you may be looking to end the year with a bang. Lucky for you, Denver is home to plenty of incredible New Year's Eve parties, concerts and firework shows. While Denver's best New Year's Eve party for 2016 is definitely Resolution NYE, The Collective 360 still has you covered if you're planning to celebrate New Year's Eve under the stars. Here's our official New Year's Eve Denver Fireworks Guide 2016.
New Year's Eve Denver Fireworks Guide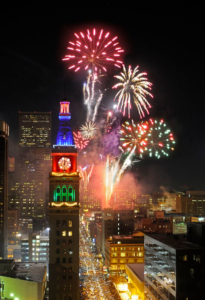 Last year, the Downtown Fireworks Show featured over 15,000 fireworks along 16th Street Mall. Not only is this show located not-too-far from The Curtis Hotel — home of Resolution NYE — the event is completely free to attend. The 15th Annual Downtown Fireworks Show features two fireworks shows — one begins at 9pm and the other midnight. This is the must-see New Year's Eve Denver fireworks show — especially since it takes place in the heart of downtown.
Important! Unless you plan on spending the first day of the year in lock-up, be sure to familiarize yourself with Colorado's firework restrictions. Fireworks are not allowed in Denver county and many surrounding communities. Read more at Channel 7 News.
Where to Party After the Fireworks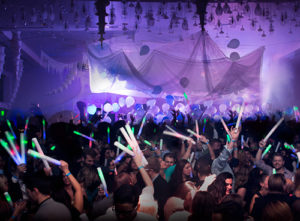 There is nothing quite like a killer fireworks show to ring in the New Year. Well, besides a massive hotel takeover with an open bar and live entertainment that is! Resolution NYE falls on Saturday night this year which is all the more reason to celebrate in style. If you play your cards right, and plan accordingly, you can easily enjoy the best of both worlds this year. We highly recommend hitting up one of these New Year's Eve Denver fireworks shows before heading down one of the best New Year's Eve parties in Colorado — Resolution NYE.
Resolution NYE
Head downtown on Saturday, December 31st and catch the New Year's Eve Denver fireworks show and then cruise over to The Curtis Hotel for Resolution NYE. If you're planning to party at one of Denver's biggest New Year's Eve parties — complete with an open bar, three ballrooms and two-floors dedicated to entertainment — then we'll see you at Resolution NYE.
Early bird tickets are currently available for Resolution NYE — be sure to get your tickets before prices increase!