Upon touring the three magnificent floors of the McNichols Civic Center Building, it becomes evident that the harmony of time periods displayed in its dated architecture and modern interior make the perfect setting for a special event. Standing strong with its exterior Greek styling and monumental Corinthian columns, McNichols appears age-old, but simply take a walk inside and this "old building" transforms into a spacious contemporary hub for incredible Denver art and culture. With black stained concrete flooring and loft-style ceilings giving life to each floor (image shown below), one can truly envision the makings of an elegant, yet indulgent, New Years Eve Denver soiree such as Resolution New Years Eve Denver.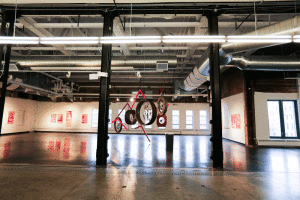 But with such a distinguished building nestled between our State's Capitol and the Denver Courthouse, so many Denverites pass by the McNichols building on a daily basis without knowing its purpose or its history. This begs the question, "What is that building and why is it here?". Resolution New Years Eve Denver is more than happy to shed some light on this iconic building and a little Denver history, too.
It may come as a big surprise that much of Denver's beauty, including Civic Center Park, can be attributed to the City Beautiful movement which began in the late 1800's and flourished throughout the 1900's. This national movement was a reform ideology that pushed for the introduction of beauty and monumental grandeur throughout major cities in the United States, with the anticipation that it would boost the population's civic morale and improve quality of life. With the support of Mayor Robert Speer in the early 1900's, Denver parks and monuments began to bloom, with Civic Center Park as the main focal point. Come 1910, a generous gift of $200,000 was made by one of America's most revered philanthropist, Andrew Carnegie. This donation allowed for the opening of the Carnegie Library, or what we know today as the McNichols Civic Center Building. The iconic building remained a library until it outgrew its space in 1955, and became occupied by the Denver Water Board. After years of occupancy, the building was renamed McNichols Civic Center Building after Colorado's 35th governor, Stephen McNichols. The final transformation was made in 2012 when McNichols reopened its doors as a beautiful cultural center and unique event space which hosts exhibitions, cultural performances and public events in Denver.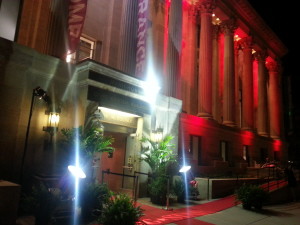 With the historic McNichols Building reopened and so much beautiful architecture adorning the surrounding area, Civic Center Park truly becomes an enriched historical hotspot for its visitors.  With the plethora of options in a New Year's Eve party, the decision may be difficult to choose which event in Denver to attend. This year, when guests of Resolution New Years Eve Denver are greeted with an introductory cocktail as they walk through the classic Corinthian columns into the McNichols Civic Center Building, then explore the spacious open bar venue and state-of-the-art production, peer through the windows overlooking Civic Center Park, and later step outside to see the evening's firework displays, they will truly understand that the tone has been set for what a New Year's Eve party experience should be. Visit http://www.mcnicholsbuilding.com/ for more info and photos of this historic venue space.